Urban Engagement Shoot in San Francisco
Pre wedding photos in Clarion Alley and Dolores Park
A Unique SF Engagement Session with Milly & Drew
This is a photo story about an urban engagement shoot in San Francisco. When I first met with Milly and Drew, they told me they wanted to do an engagement shoot, but they did not want to "create the cliche photos that you see on most wedding photographers websites." They wanted something different and photos that were unique to their life together. So, we chatted and I listened to their story. After a few emails and phone calls for pre-planning, we came up with a very fun plan.
We decided to plan an urban engagement shoot throughout the city of San Francisco. And we planned to focus our time among the incredible street art and graffiti of Clarion Alley and then have a stroll through Dolores Park with epic views of the San Francisco city skyline before heading out for dinner at one of their favorite SF restaurants. The idea for our engagement session was that this is something Milly and Drew would do for a date night and we wanted to capture that energy and connection as if it were a snapshot into their lives together. Here are a few images from their urban engagement adventure in SF: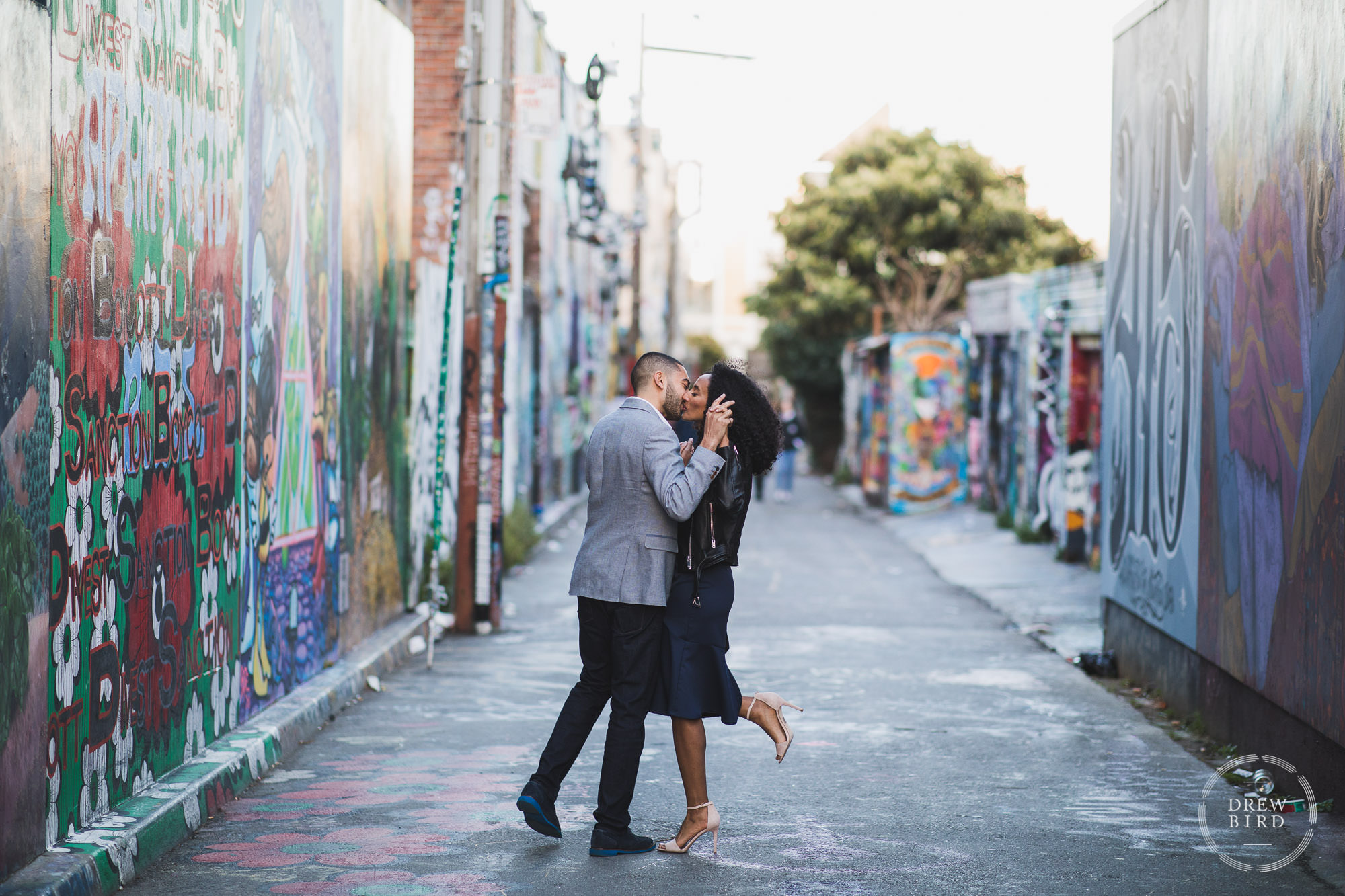 Designing an SF Engagement Session
Our engagement sessions are a little bit different than most of what you'll see out there. We always urge our wedding clients to think outside of the box. Literally – the world is our canvas – and anything we can imagine we can plan and do. Most of our 'engagement sessions' are more accurately day-in-the-life photo sessions with our wedding photography clients. The idea is that we plan an adventure that reflects the individuality and unique relationship of each couple. We want to create a series of photos that are unique, true to the couple, and artistic. 
The photo session is almost always centered around an activity and/or adventure and/or experience that the couple would likely do even if engagement photography was not involved. For example, for engagement photo day-in-the-life sessions, I've gone snow shoeing with clients in Lake Tahoe, I've planned hiking and camping adventures in Yosemite National Park, and I've planned date like adventures in San Francisco where my clients listen to records in vinyl shops in the Haight before going out for dinner and dancing. And this is exactly how we transform the engagement session from cliche and predictable into something that is unique and specific and one of a kind for our clients. Milly and Drew's urban engagement session focused on the edgy and iconic graffiti and street art in Clarion Alley. See more adventure and engagement photos here.
"Hi Drew!! We had so much fun on our photo adventure in San Francisco. Thank you for suggesting these great SF locations and for the beautiful images. We always joke about how we never have good photos of ourselves and it seems like every image you captured shows the best version of us. We are so happy."
"We love working with our wedding couples to design unique adventure and engagement photo sessions that reflect their relationship and that capture a moment in their lives together."
–  Drew Bird, Oakland and SF Bay Area Wedding Photographer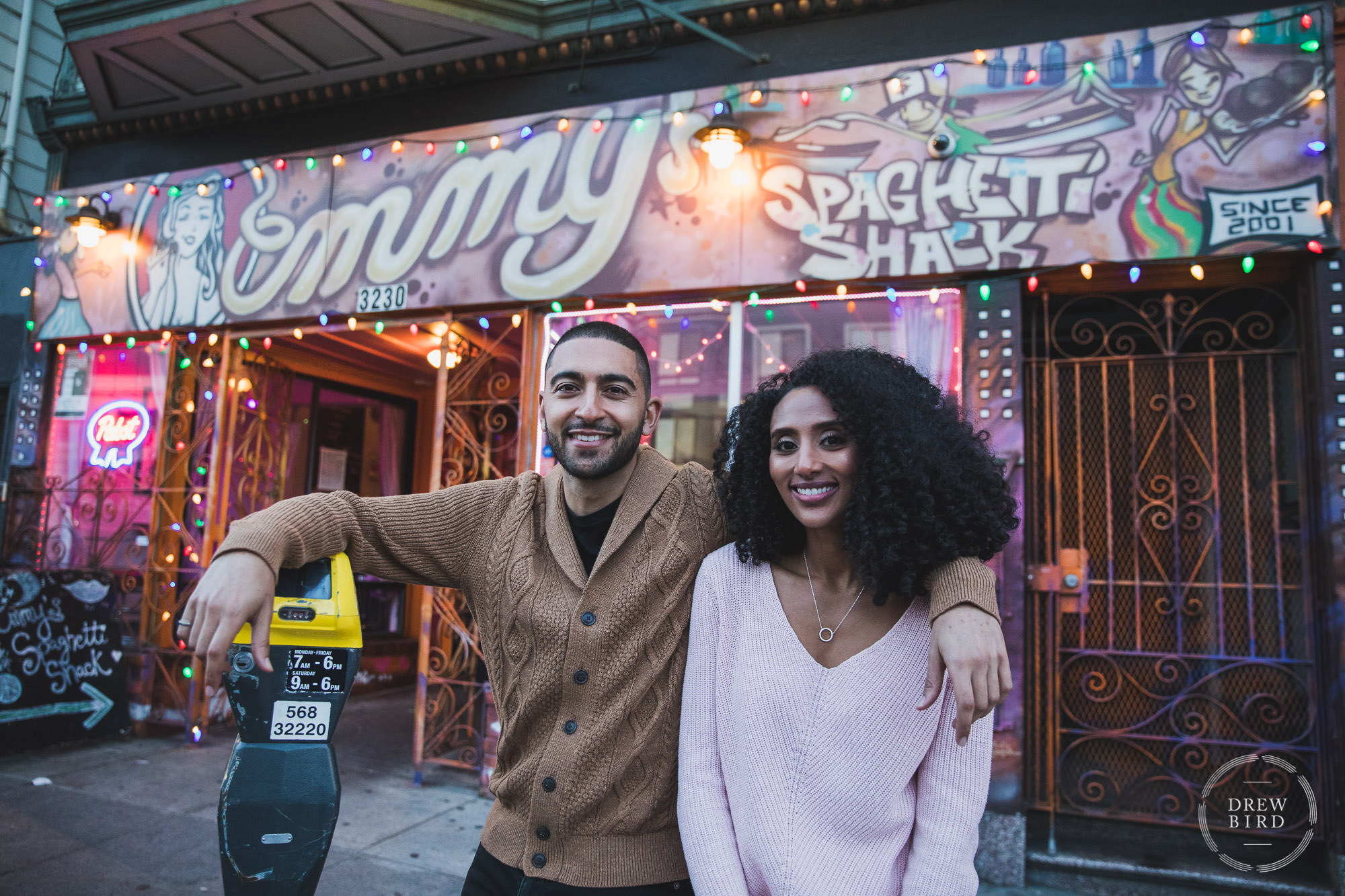 SF urban engagement photo locations: Clarion Alley & Dolores Park & Emmy's Spaghetti Shack.
This is Part 1 in a three part series about a multicultural SF Bay Area wedding. Part 1 includes an Urban Engagement Photos in San Francisco. Skip ahead and see Part 2, including a Greek Orthodox wedding ceremony and Berkeley City Club wedding reception. Or skip ahead to Part 3, and see Traditional Ethiopian Wedding Ceremony Photos.
Drew Bird is recognized as one of the top 20 wedding photographers in California and one of the top 100 Destination Wedding Photographers in the world by the Wedding Photojournalist Association. He is currently based in Oakland and the San Francisco Bay Area and creates wedding photography stories throughout the SF Bay Area, all of California, and destination wedding photography stories for clients in the USA and world-wide. Get in touch with Drew.