They are our favorite way to experience a photo story. Long after the cake has been eaten, the band has played a final encore, and last-call is made at your open bar, your artistic photographs will live on. We hope you'll consider including an album and making it your first family heirloom.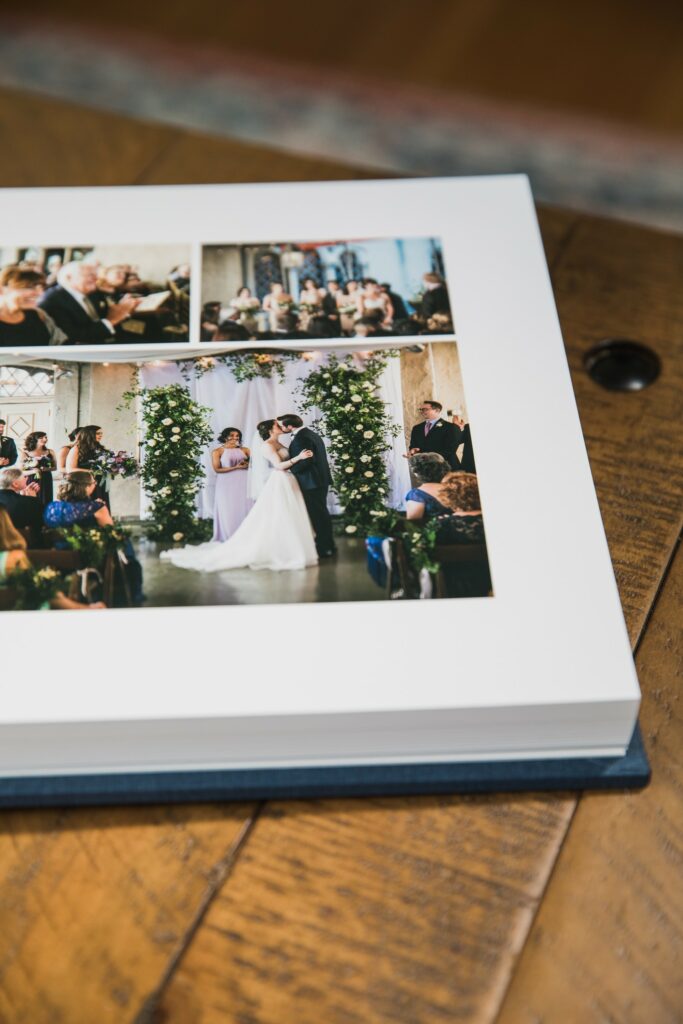 More reasons we love albums
Albums make your photos more accessible. Digital files are great, but our computers and harddrives can become a blackhole. A wedding album takes your photos out of the digital world and puts them right onto your coffee table or bookshelf. This makes your wedding photos SO MUCH MORE available and present in your everyday life.
Our wedding albums guarantee artistic design by professional storytellers.
Our premium quality albums use all museum archival quality materials and are are designed to last. They are built and constructed by artisans right here in the USA.


Leather and linen cover materials are available with a wide assortment of color options.
A wedding album is a reminder about what is wonderful about your relationship together.
An album will last your entire lifetime and you'll pass it on to future generations.
Smiling feels good. And our albums will make you smile.
"We absolutely LOVE our wedding album. What a magnificent memento. The moments you captured are amazing (of course!). And the book itself is a work of art. Every time we look through our wedding photos it's the book we reach for. There is something so special about holding the book in our hands and turning the pages and reliving the story. Our family and friends are raving about it. We'll cherish this book for a lifetime. Thank you!!!"
Lauren and Dave
Berkeley City Club Wedding
Get in touch to chat about your wedding
Let's create a photo story together. Contact us with a description of your wedding plans. We can set up a complimentary consultation and will build a custom proposal for you.