Redwood Grove Ceremony and Art Gallery Party
An Oakland Redwoods Wedding
Redwood forests are sacred. The trees are ancient and tower hundreds of feet above the forest floor. The light quality is ethereal. And redwood groves moderate their own micro climate. If it's a hot summer day it will be at least 10 degrees cooler in among the trees. Alana and Chris' Oakland redwoods wedding ceremony was in the Madrone Grove in Roberts Regional Park.
We planned everything so that the lighting would be at the perfect angle during their late afternoon summer wedding. This involved some location scouting by our creative team using the very handy Sunseeker App. With help of the app we could accurately predict sun angles, shadows, and times of day for the wedding date.
This photo story includes Alana and Chris' California redwood forest ceremony, followed by cocktails in the redwoods, and finally an incredible wedding reception at Vessel Art Gallery in Oakland, CA.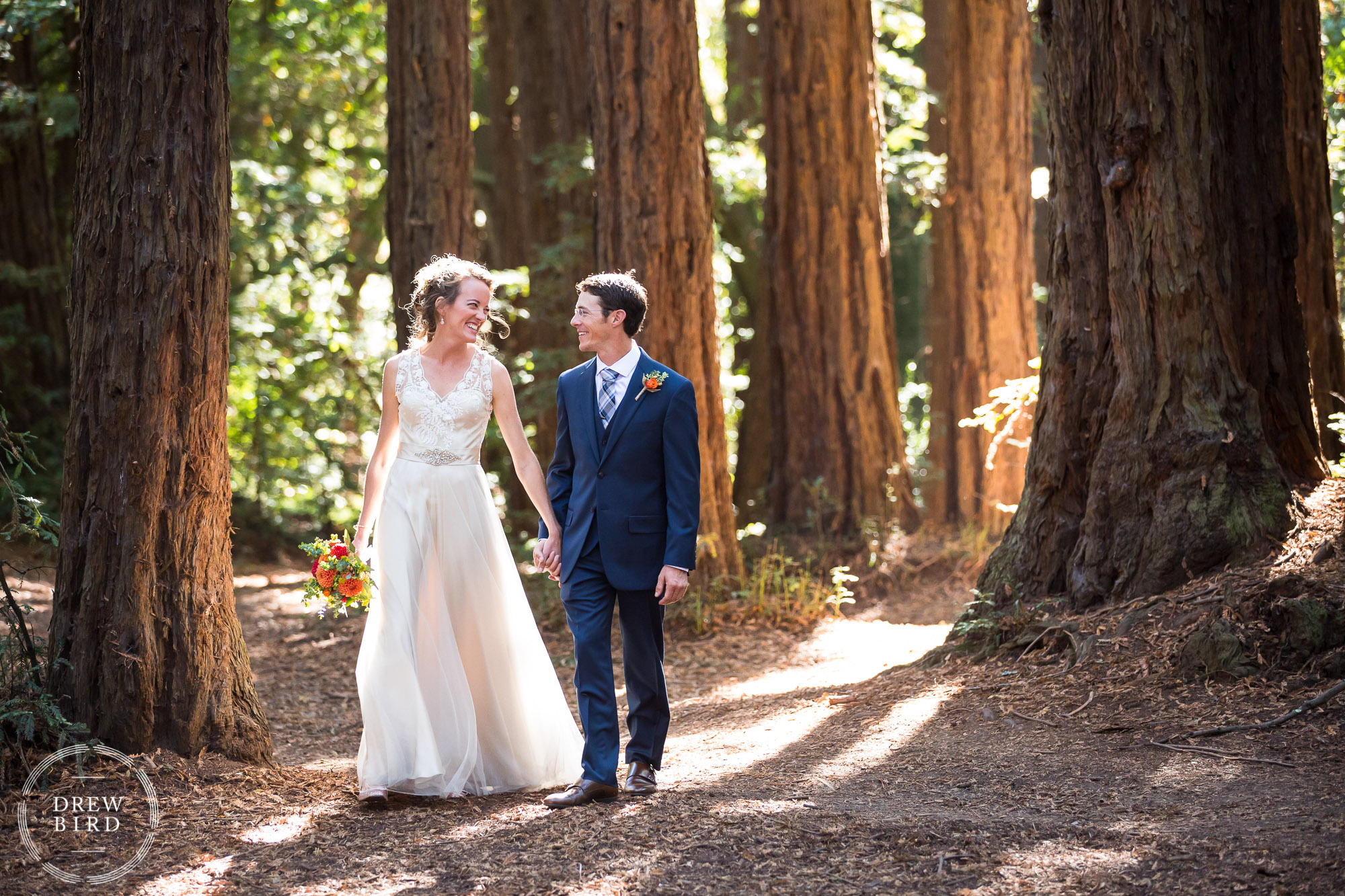 "Hi Drew! We LOVE the photos. We just feel so lucky that you were available to photograph our wedding story. We loved working with you and really appreciate your professionalism and also your easy going personality. We genuinely enjoyed getting to know you. The photography portion of our wedding was completely stress free and top level. Thank you so much for all the positivity you brought to the wedding day."
"Thank you for so much for these amazing photos! There are so many beautiful shots. I'm so over the moon happy that you encouraged us to do the photos in the forest before our redwood grove ceremony. Those photos are amazing. The light is incredible streaming through the trees. I also love the candids and party shots and the photo shoot we did by the art gallery. A thousand thanks for telling our story with such love!"

Cocktails in a Redwood Forest
When the magical Oakland redwood wedding ceremony was finished, everyone stayed in the forest for cocktails. The afternoon sun dipped lower in the sky kissing our redwood grove with some incredible light. The energy of the group was incredible, no doubt enhanced by a lovely ceremony and being in the presence of these magnificent redwood trees. For an hour and half, our creative team captured natural, candid, and journalistic style images of the revelry and celebration. 
Vessel Art Gallery Wedding Reception
After the redwood forest cocktail hour the sun was getting low in the sky and the wedding shifted venues to the city. A ten minute drive downhill and we arrived at the Vessel Art Gallery in the Northgate neighborhood of downtown Oakland. The art gallery was once an historic horse stable that has been modernized and renovated in to an incredible space that fosters creativity. From the gallery's website, "Vessel is a space where artists and art lovers journey together." This art gallery wedding reception was the perfect pairing with Alana and Chris' redwood forest wedding. Nature transitioned into culture. And the blend made for a really fabulous photo story.
"We love photographing redwood forest weddings. The trees are so full of life and energy. When people gather in a redwood grove it's a sacred experience. Pairing their redwood ceremony with an art gallery reception in Oakland was really the perfect compliment to Alana and Chris' photo story. Nature and culture, together."