Golden Gate Club Wedding Photos
A gorgeous celebration in the Presidio, San Francisco
Getting Ready at the Sir Francis Drake Hotel SF
We are very excited to share this photo story from Christina and Jame's wedding and reception at the Golden Gate Club in the Presidio. Though, the story begins with getting ready at the classic Sir Francis Drake Hotel in downtown San Francisco. The hotel rooms have a real luxury feel to them, with great natural light. And we found some very fun window light for a few dramatic portraits with the couple and their friends (scroll down). We had a great time creating this wedding photo story and we hope you enjoy a few of the photos!
"I got so excited when you sent the link to our wedding photo gallery. I was giggling like a fool on BART looking at the photos on my phone. YES WE LOVE THE PHOTO STORY!! We knew the pictures were going to be amazing thanks to some of the peeks you showed us along the way. They're better than we could have ever imagined. Some of the sunset photos at the Golden Gate Club are just WOW!! We have been sharing the gallery link far and wide with folks and everyone thinks the photos are fantastic. THANK YOU! You guys crushed it!"
–  Christina & James, Golden Gate Club Wedding in The Presidio, San Francisco
Golden Gate Club Wedding Ceremony
We had a beautiful bluebird sunny day for Christina and James' outdoor wedding ceremony in the front courtyard (image below). The Golden Gate Club is one of the most interesting wedding venues in the Presidio. The ceremony photos are so vibrant and filled with energy and love. The setting sun also made for artistic backlighting for some of the wedding guest photos (see below). 
My team and I also pre-scouted photo locations prior to the wedding day. We used an app on my phone to determine the sun and shadow angles in order to determine the best time for the ceremony and for photos after the ceremony was finished. For one of my favorite photos, we found a stone wall along a ridge line nearby in the Presidio. The angles were just right to create a gorgeous silhouette image of Christina and James (scroll down). The adventurous part was convincing them both to climb up on top of the wall in their wedding attire, which they did! (We did borrow a step ladder from the venue.) See more images from our adventure engagement sessions here.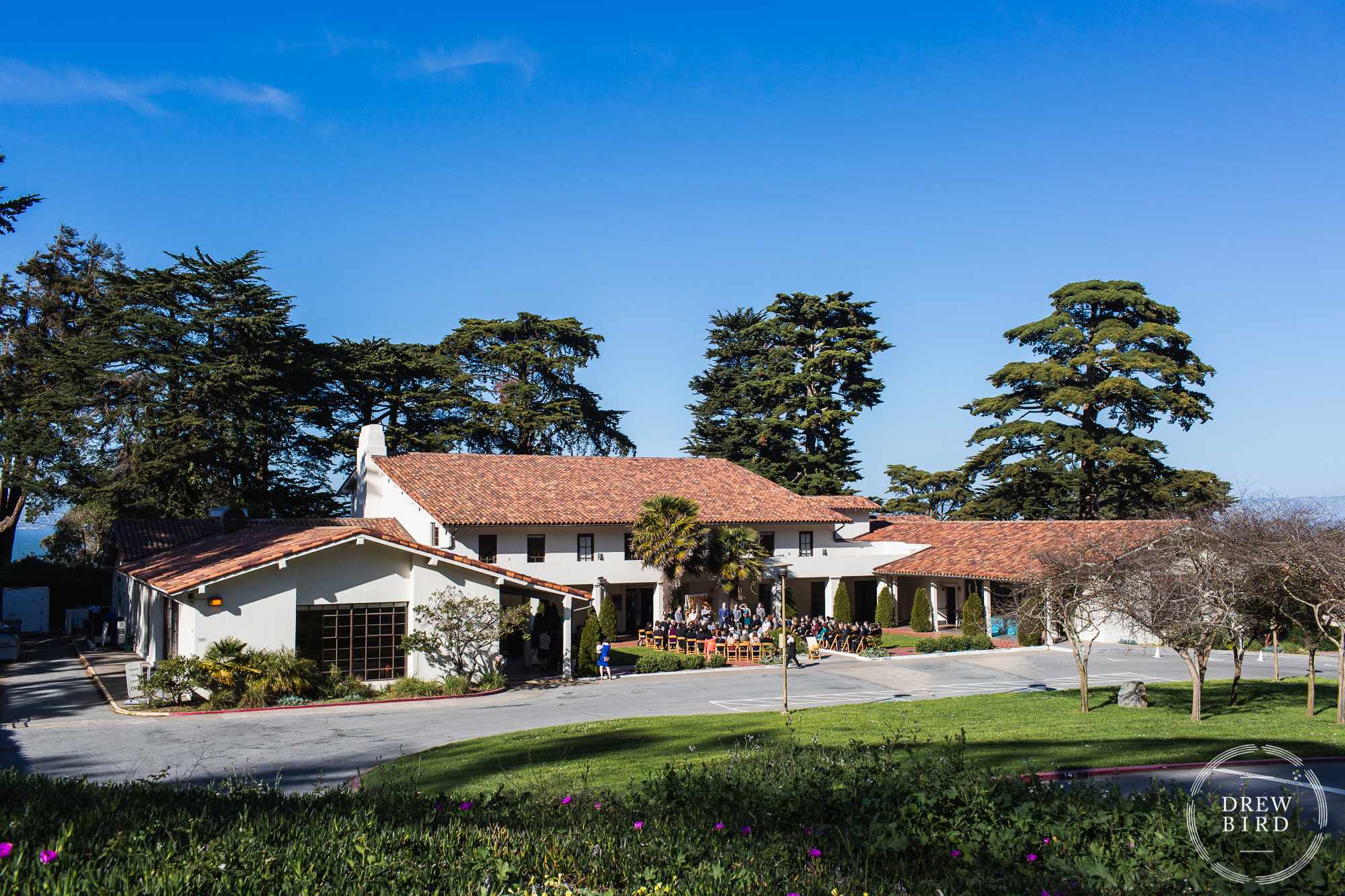 "Hi Drew. We are just stunned at the quality of these photos! We absolutely love them and are so happy that you were available to photograph our wedding at the Golden Gate Club in the Presidio. Thank you so much for capturing the day for us and creating so many genuine and beautiful memories : )"
–  Christina & James, Golden Gate Club Wedding in The Presidio, San Francisco
"The Golden Gate Club is such a fun wedding venue. The entire Presidio of San Francisco is a marvelous canvas for creating stunning and unique wedding photos. Prior to the wedding day we scouted out these photo locations for Christina and James so that we could make sure to be in all the right places with the best light."
–  Drew Bird | San Francisco Wedding Photographer @ The Golden Gate Club
Evening Wedding Reception Photos at The Golden Gate Club
As the sun started to set over the Golden Gate Bridge and the air temp dropped, everyone moved inside to the Golden Gate Club's grand ballroom for dinner, drinks, and dancing. During Christina and James' entrance the energy was palpable. The party that followed was fun to be a part of and fun to photograph. See more of our destination wedding photos here. 
"Working with Drew Bird and his team was fun and joyful from start to finish. Our wedding photos bring us so much joy every time we look at them. Drew became a welcome member of our wedding party and all our guests couldn't stop talking about how interesting and fun he is. We would have invited Drew as a friend, even if he wasn't taking photos! He put everyone at ease, and became so much 'part of the scene' that people stopped posing for pictures and he was able to capture all the varied moments of conversation, laughter, tears and joy."
–  Emily & Zach |  Wedding Clients
This post is about Christina and Jame's Golden Gate Club wedding photo story in the Presidio, San Francisco.
Getting Ready Wedding Venue: Sir Francis Drake Hotel. San Francisco.
Wedding Ceremony Venue: The Golden Gate Club, A Wedgewood Venue.
Wedding Reception Venue: The Golden Gate Club, A Wedgewood Venue.
Wedding Planner: Casey Sasser with Sasser Events.
Catering: Delicious! Catering. San Rafael, California.
Florals: Natalie Marvin and Belle Flower. 
*all photos by Drew Bird and his assistant, Stan.
Drew Bird is recognized as one of the top 20 wedding photographers in California and one of the top 100 Destination Wedding Photographers in the world by the Wedding Photojournalist Association. He is currently based in Oakland and the San Francisco Bay Area and creates wedding photography stories for clients throughout the SF Bay Area, all throughout California, and destination wedding photography stories for clients in the USA and world-wide. Get in touch with Drew.